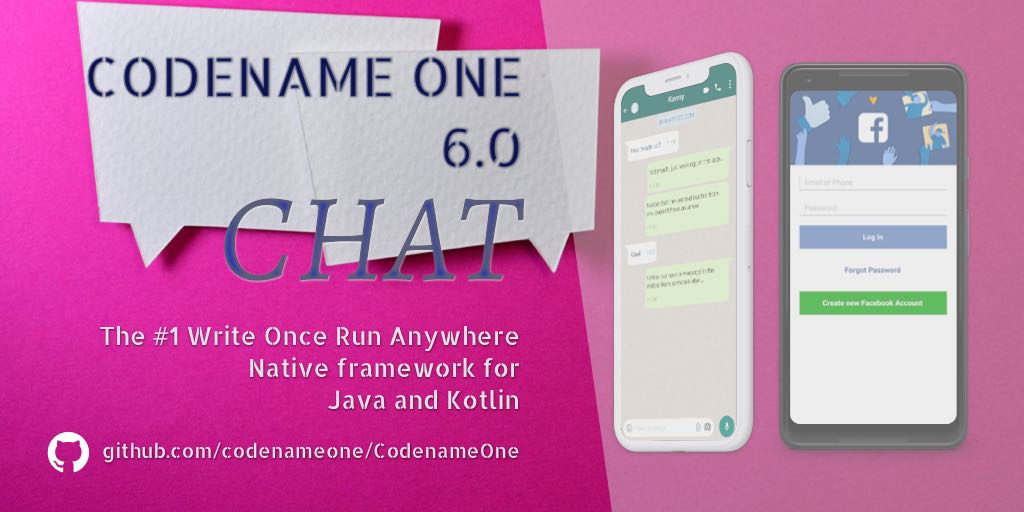 We are thrilled to announce the release of Codename One 6.0 – Chat. Codename One is an open source "Write Once Run Anywhere" mobile platform for Java and Kotlin developers!
With this release we introduced Codename One Build which is one of the biggest overhauls to the Codename One workflow since its inception. We also refined and updated many underlying technologies e.g. the xcode 10.1 migration, WKWebView support, push replies, badges on Android and much more.
You can check out the details below for the full review but first if you are new to Codename One here's a short primer. Codename One is the only platform that:
Has Write Once Run Anywhere with no special hardware requirements and 100% code reuse

Compiles Java or Kotlin into native code for iOS, UWP (Universal Windows Platform), Android & even JavaScript

Is Open Source & Free for commercial use with an enterprise grade commercial support

Is Easy to use with 100% portable Drag & Drop GUI builder

Has Full access to underlying native OS capabilities using the native OS programming language (e.g. Objective-C) without compromising portability

Has full control over every pixel on the screen! Just override paint and draw or use a glass pane to draw anywhere…​

Lets you use native widgets (views) and mix them with Codename One components within the same hierarchy (heavyweight/lightweight mixing)

Supports seamless Continuous Integration out of the box
Version 6.0 is nicknamed Chat because of the WhatsApp Clone application that was developed with it for the online course in the Codename One Academy.
Highlights of this Release
The top 5 features of this release are covered in this short video, check out further details below…​
| | |
| --- | --- |
| | Currently the iOS version is still in beta due to the tedious appstore approval process |
There are many other features both big and small. Check out our blog and the github project history.
Onwards to 7.0 – Video
We took a lot of time for 6.0 but I'm not sure if that's enough. We might take longer to deliver 7.0. Currently the timeline is unchanged but we'll have to see.
We will have a Netflix clone tutorial in the Codename One Academy. Hence the moniker of the next release.
We Need your Help
If you think we are doing a good job and appreciate our help please help us by:
Or just sign up for enterprise accounts which literally keep the lights on here…​ If your company can afford it please take the time and upgrade to enterprise, this will allow us to work on the things that are important for your company!
Thanks for reading this far and if you have any thoughts/suggestions of any kind please let us know!