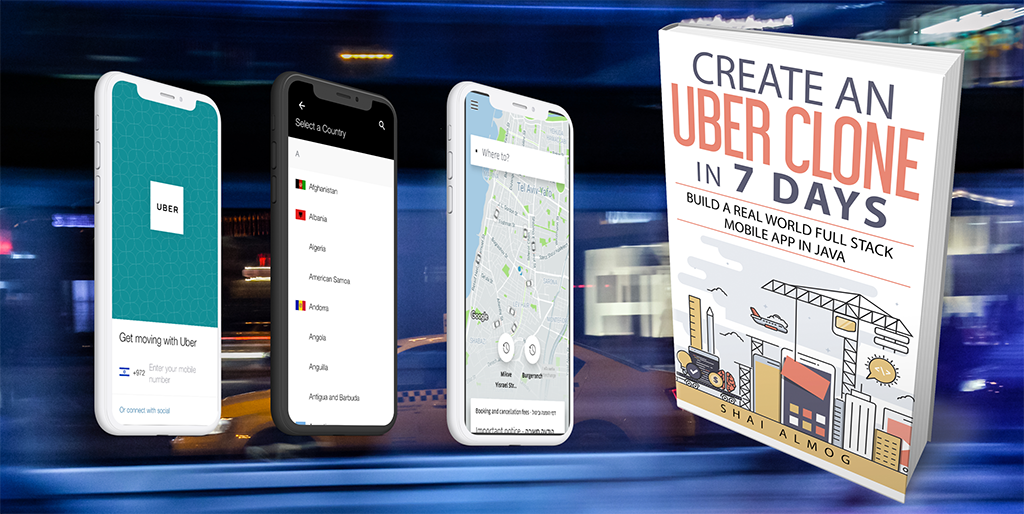 I've been working on the new "Create an Uber Clone in 7 Days" book for ages. After so much work this is finally almost done!
We have a release date: August 16th (yes 2018!). You can already pre-order the kindle edition but you'd get it for free if you buy the print edition which for some inexplicable reason can't be pre-ordered.
UPDATE: Since writing this I've added a dedicated book site, I'd rather you share that instead of the link to this post. It's available here: https://uber.cn1.co/
You can see the preorder page on amazon here. For now the digital book is an exclusive on Amazon. This provides some visibility benefits that are helpful at this stage.
I'm pretty happy with how the book turned out, it's a huge leap over previous things we did. A lot of that is thanks to the huge effort of the multiple people who reviewed it over the course of its production. Unfortunately I don't have access to the names of all the reviewers so if you aren't mentioned here please contact me via the chat ASAP and we'll fix that.
Late stage reviewers of the book were very helpful so far, specifically Francesco Galgani, Rémi Tournier and Steve Nganga. Steve Hannah put so much effort into his review I gave him editor credits for the book.
In that sense this book is a team/community effort so in that spirit I'm publishing the first two chapters and all of the appendices for free!
I'm publishing them in the PDF format which was developed for the print book. I would very much appreciate it if you spread the word on this. I'd prefer if you don't send out the PDFs and instead send a link to this blog post so people can download the PDF from here. I don't like those annoying sites that demand your email for download and we don't do it here.
If you like what you read, the print book will be available for purchase on August 16th. Notice that the digital/kindle book has different formatting which is very noticeable in the source code listings.
This PDF is based on the print version, as a result it has asymmetric padding and layout. This allows elements to "bleed" to the edge of the page and provides a pleasant browsing experience when reading the printed documentation.
The first two chapters and appendices can be downloaded from here.
You can check out this article I wrote for Hackernoon. It explains some of the nitty gritty details of asciidoctor and professional book layout. So if you are curious why it took so long to get this book out, check out the before/after shots in that article.