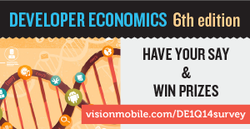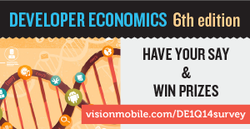 We would very much appreciate it if you take the new Developer Economics

10-minute survey

you can also win prizes as a result! VisionMobile has launched a new Developer Economics survey. If you're an app developer, take the survey to have your say and win prizes, including an iPhone, a Galaxy S4, two Nokia Lumia 920 handsets and some cool gadgets.
Also – respondents who complete the survey and opt-in to VisionMobile's panel can access the Developer Benchmarks, a visualised scorecard of how they compare to other developers in their country or region, across platforms used, revenue models, app categories and more.
The survey results will be available for free download on January 2014.

This is really important to us, it allows us to improve our positioning and awareness within the industry. Regardless of your subscription level it would be very helpful for us if you take those 10 minutes and click

the link

.


Notice: This post was automatically converted using a script from an older blogging system. Some elements might not have come out as intended…. If that is the case please let us know via the comments section below.