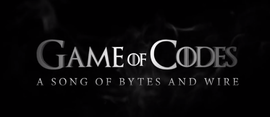 JavaZone

just released their traditional annual clip which is especially amusing for fans of the Song Of Ice & Fire series (or the Game Of Thrones TV adaptation). If you haven't seen the clips from these guys before you MUST check them out

here

, including spoofs of house of cards and breaking bad (not to mention years of hilarious clips)!
Very cool.
We are hard at work for my workshop at JavaZone which will teach the creation of a Codename One application from start to finish, if you haven't signed up you should. JavaZone is one of the best produced conference I've attended and its loads of fun with great humor, music, food and alcohol. Definitely worth the trip.

Notice: This post was automatically converted using a script from an older blogging system. Some elements might not have come out as intended…. If that is the case please let us know via the comments section below.