Codename One LIVE Updated & Android Changes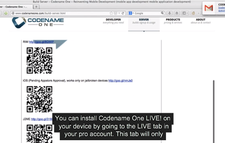 We finally got around to updating Codename One LIVE! and in the process also added a How Do I? video
guiding you thru the process of using it
.
If you didn't use Codename One LIVE! in the past its a really cool tool that allows you to instantly preview the design you build within the GUI builder right on the device. This works seamlessly for all devices although for iOS its difficult to get an app like that thru itunes and it requires a jailbroken device (unlike regular Codename One apps).
This update also disables the feature for non-pro users, it was always listed as a pro user feature in our
pricing page
but in the past this wasn't enforced.
On a different subject, we made some major compatibility breaking changes to the Android port. Please test your application and see that it behaves correctly on start up, this is very important since we are about to release Codename one 2.0 and we want it to be very stable.
Notice: This post was automatically converted using a script from an older blogging system. Some elements might not have come out as intended.... If that is the case please let us know via the comments section below.
Shai is the co-founder of Codename One. He's been a professional programmer for over 25 years. During that time he has worked with dozens of companies including Sun Microsystems.