Layout manager that places elements in a row (X_AXIS) or column (Y_AXIS) according to box orientation. Box is a very simple and predictable layout that serves as the "workhorse" of component lists in Codename One
You can create a box layout Y UI using syntax such as this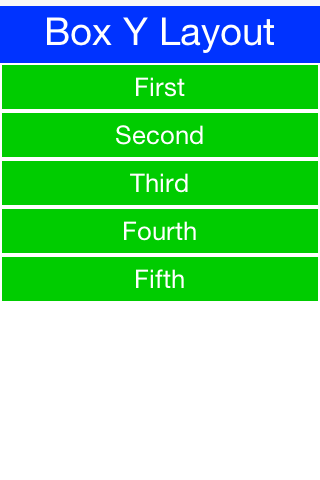 This can also be expressed with more terse syntax e.g. an X axis layout like this: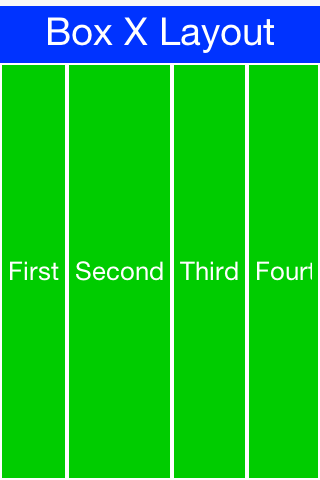 The BoxLayout keeps the preferred size of its destination orientation and scales elements on the other axis. Specifically X_AXIS will keep the preferred width of the component while growing all the components vertically to match in size. Its Y_AXIS counterpart keeps the preferred height while growing the components horizontally.
This behavior is very useful since it allows elements to align as they would all have the same size.
In some cases the growing behavior in the X axis is undesired, for these cases we can use the X_AXIS_NO_GROW variant.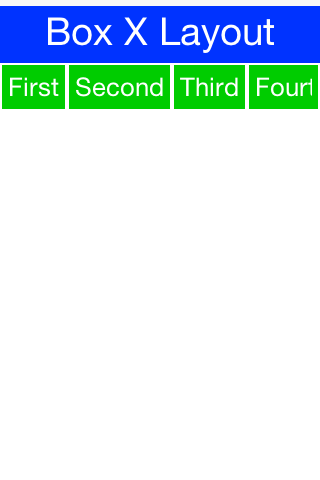 FlowLayout vs. BoxLayout.X_AXIS/X_AXIS_NO_GROW
There are quite a few differences between FlowLayout and BoxLayout. When it doesn't matter to you we tend to recommend BoxLayout as it acts more consistently in all situations since its far simpler. Another advantage of BoxLayout is the fact that it grows and thus aligns nicely.