A border layout lays out a container, arranging and resizing its components to fit in five regions: north, south, east, west, and center. Each region may contain no more than one component, and is identified by a corresponding constant: NORTH, SOUTH, EAST, WEST, and CENTER. When adding a component to a container with a border layout, use one of these five constants.
The border layout scales all of the components within it to match the available constraints. The NORTH & SOUTH components use their preferred height but are stretched to take up the full width available. The EAST & WEST do the same for the reverse axis however they leave room for the NORTH/SOUTH entries if they are defined.
The CENTER constraint will take up the rest of the available space regardless of its preferred size. This is normally very useful, however in some cases we would prefer that the center component will actually position itself in the middle of the available space. For this we have the setCenterBehavior method.
Because of its scaling behavior scrolling a border layout makes no sense. However it is a common mistake to apply a border layout to a scrollable container or trying to make a border layout scrollable. That is why the Container class explicitly blocks scrolling on a BorderLayout.
Typical usage of this class: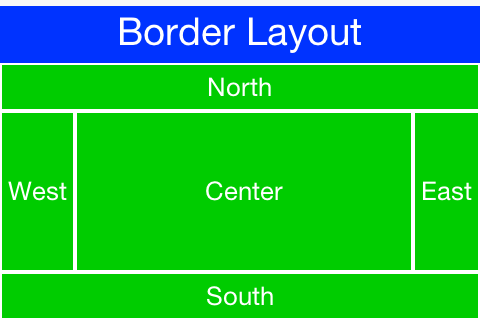 When defining the center behavior we can get very different results: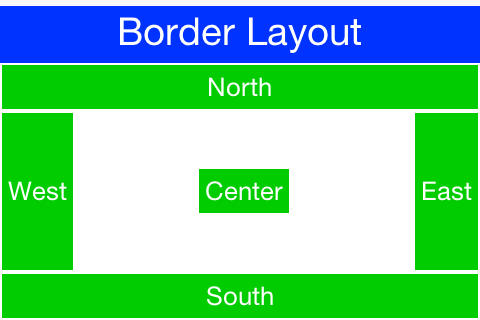 Notice that in the case of RTL (right to left language also known as bidi) the EAST and WEST values are implicitly reversed as shown in this image: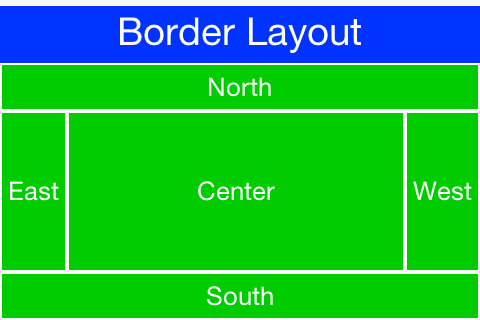 You can read further in the BorderLayout section in the developer guide.