The components are arranged in a grid based on available space, all cells in the grid are given exactly the same size which matches the largest preferred size or available space. The main use case for this layout is a grid of icons e.g. like one would see in the iPhone home screen.
If the number of rows * columns is smaller than the number of components added a new row is implicitly added to the grid. However, if the number of components is smaller than available cells (won't fill the last row) blank spaces will be left in place.
In this example we can see that a 2x2 grid is used to add 5 elements, this results in an additional row that's implicitly added turning the grid to a 3x2 grid implicitly and leaving one blank cell.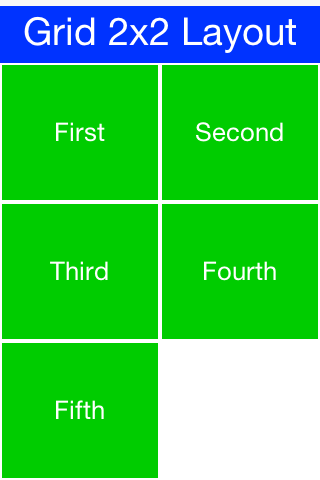 When we use a 2x4 size ratio we would see elements getting cropped as we do here. The grid layout uses the grid size first and doesn't pay too much attention to the preferred size of the components it holds.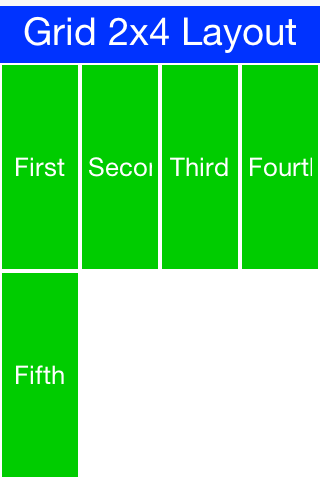 Grid also has an autoFit attribute that can be used to automatically calculate the column count based on available space and preferred width. This is really useful for working with UI's where the device orientation might change.
There is also a terse syntax for working with a grid that has two versions, one that uses the "auto fit" option and another that accepts the column names. Heres a sample of the terse syntax coupled with the auto fit screenshots of the same code in two orientations: